Nils Thrane Interview for Global Business Reports
NILS THRANE, PRESIDENT, THRANE TEKNIKK
JULY 23, 2015
GBR Connect Series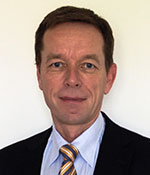 Can you give a brief overview of Thrane and its developments over the last three years?
Nils Thrane (NT): Thrane Group consists of companies located in Norway, the UK, Russia and Kazakhstan with close partners in the United States, the United Kingdom, and Germany. Thrane Group brings the best solutions based on know-how, equipment, and design. Thrane & Thrane Teknikk was established in 1954 and has been supplying quality products and solutions to the industry since then. The group now has activities in Russia, Kazakhstan, the Ukraine, Norway, and the United Kingdom. New products and know-how from all over the world are regularly being added to ensure that everything from complete projects to individual products and solutions uses the latest and best technology on the market.
Thrane's first business in the region, i.e. Russia, was in 1991, which was followed by a representative office in 1998. Business escalated, and in 2005, the representative office model no longer satisfied the company's needs. Thrane then established a Russian company with a Russian partner. In 2011, to be more successful Thrane again had to expand its footprint and established its Kazakh company to service its customers' needs, and now has an office in Almaty and Karaganda. The Russian and Kazakh markets are similar in their format but work to a different agenda. Thrane's position in the market is in the grey-zone between consulting and equipment supply; it consults with clients for new solutions to improve operations, i.e. capacity, quality, energy saving, etc. Thrane's portfolio has three main products: sensor-based sorting for ore, fine screening, and paste technology. Sensor based sorting for ore offers bigger capacity and considerable savings by sorting out waste rock before it enters the beneficiation plant. The next step in the beneficiation plant is milling—traditionally used with cyclones; this method, however, generates low efficiency, and Thrane has now introduced a fine screening concept to replace cyclones. The energy saved from the screening concept will give a 30% to 50% increase in capacity, or from a green perspective liberate the energy for other uses. Another new technology that Thrane is dealing with is paste technology. Current tailings consist of 30% solids and 70% water stored in tailings ponds; solids sink to the bottom, and the water is pumped and re-cycled. This storage method requires large dams, is expensive and environmentally dangerous, and a lot of water is lost in the process. Paste technology consists of 70% solids and 30% water and does not require large dams; water can be circulated straight back to the plant without losses, an ideal system for countries such as Kazakhstan where water is precious.
How reliant is your Russian office on the research and development (R&D) done in Norway? How much do you benefit from your partnerships with WesTech, Tomra Sorting Solutions, Derrick Corporation, and others?
NT: Thrane's in-house R&D initiatives are partnered by Norway and Russia; both parties' expertise is amalgamated to produce R&D. Thrane could not exist without its external partnerships; we rely on a triangle of partnerships between Thrane, external partners, and our customers.
What is the level of maintenance and after-sales service offered in Kazakhstan and have you seen improvements in recent years in terms of outsourcing?
NT: There is a big difference between Kazakhstan and Europe in the level of maintenance and after-sales service. In Europe, maintenance and after-sales service tends to be sub-contracted, but in Kazakhstan, this remains in-house and more people have to be employed, and arguably, the level of service is not always to the required standards. There is a train of thought that outsourcing could benefit Kazakhstan; to date, there has been no firm action. The lack of infrastructure in Kazakhstan can be a challenge, but it has not halted Thrane's ability to carry out its after-sales service and maintenance.
Have you experienced difficulty in introducing new technologies to existing and new clients?
NT: Universities in Kazakhstan are top-heavy with older people who can be resistant to change. Companies are reluctant to be the first to take the initiative and risk of introducing new technology; albeit they do have younger people in situ who are more likely to welcome new proven technology. Europe is more accommodating towards new technology and willing to take the risk with it. The mentality in Kazakhstan is quite risk-averse where personal responsibility for failure is avoided in the case of introducing something new in a company's operations. In Europe, this is understood to be a calculated risk, but with good potential for success that can save a company time and money in the long run. So, the project will move forward without risk of personal consequences.
What are Thrane's competitive advantages in Kazakhstan and what are your plans for the next five years in this country?
NT: Thrane specialize more in new technology than its counterparts. Larger competitors concentrate more on big turnkey projects, but Thrane focuses on established and new plants. In Kazakhstan, Thrane would like a breakthrough and acceptance of its new technologies. It is only a matter of time before the pressure on companies to reduce production costs per metric ton aligns with Thrane's new technologies. The current downtime in mining operations affords a company the time to try new technology.
This interview was conducted by GBR as part of its research on the mining industry in Kazakhstan, which will be published in Engineering and Mining Journal in September 2015. A concise version of this research was published in May 2015 and can be accessed here. If you wish to participate, please contact Katya Koryakovtseva at  This email address is being protected from spambots. You need JavaScript enabled to view it. .